Question Mark Klein Bottle
SOLD OUT/ GONE /
Due to the expansion of the universe, it's become difficult to restock. I expect more in Sept 2021.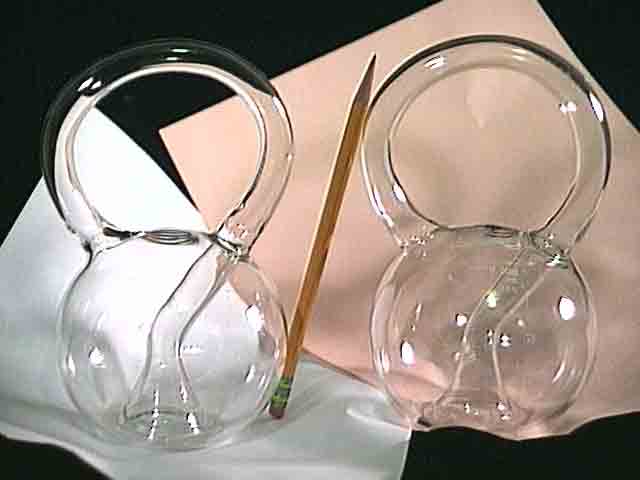 Inspired by the ceremonial Navajo marriage vase, a Question Mark Klein Bottle makes an elegant wedding gift for the one-sided couple. The nearly-symmetric design allows for ease in transport -- the bottle balances gracefully in your hand as you lilt on stage at the Royal Albert Hall or Sydney Opera House.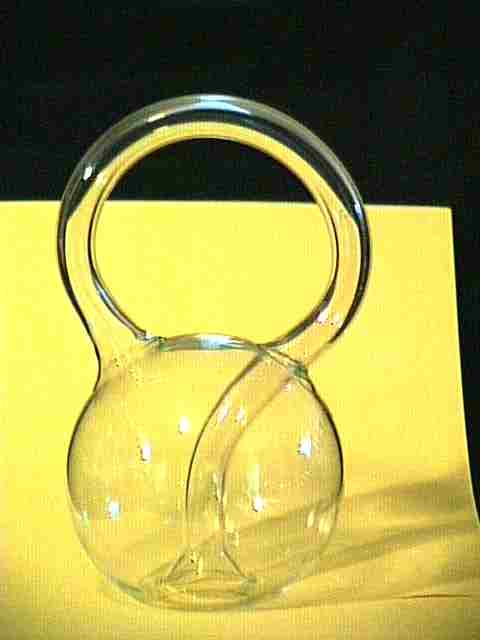 We make the handle slightly larger than the nearly-sperical base. This makes the Question Mark Klein Bottle easy to grasp during those intimate topological moments when handles and holes are hard to discern.
- Height 175mm (7 inches)
- Diameter 100 mm (4 inches)
- Weight: 200 gm (7 oz)
- Displacement 550 ml (18 fluid ounces)
- Actual volume 0.0 ml (0 fluid ounces)
Like ACME's other fine Klein Bottles, this is handcrafted from pure Borosilicate Glass ... Pyrex, Kimax, Bomex, or Simax. It has a bulk density: 2.23 gm/cm3 and expands just 0.000326% per degree C. This means that it'll shrink only a few microns while you stroll from Byron Bay NSW to Steep Point WA. Nor should you worry about it dissolving -- we have tested samples in water, acetone, methyl-ethyl-ketone, turpentine, and Jello.
These Klein bottles are some of the finest glass I've seen. Superb glasswork!
This delightful Klein Bottle costs only $67xx -- a low cost alternative to retrofitting our global economy.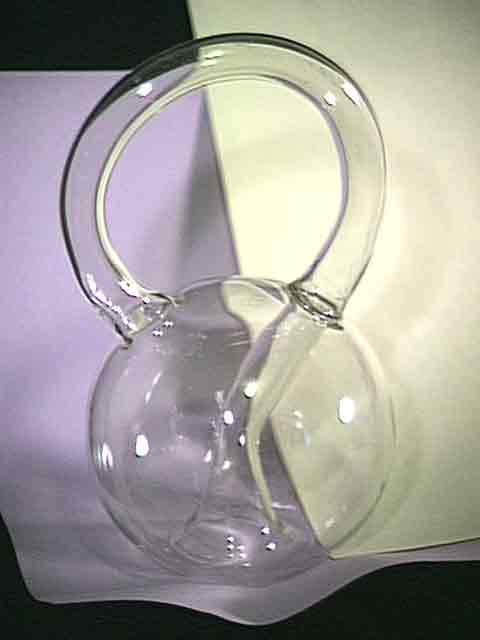 Cliff last updated this page on Thursday evecning, December 17, 2020