Here's a recent photo of the Acme Klein Bottle Emporium at 6270 Colby Street in Oakland California.
In the foreground, our trusty Ford Touring car, ready to deliver another load of Acme Klein Bottles.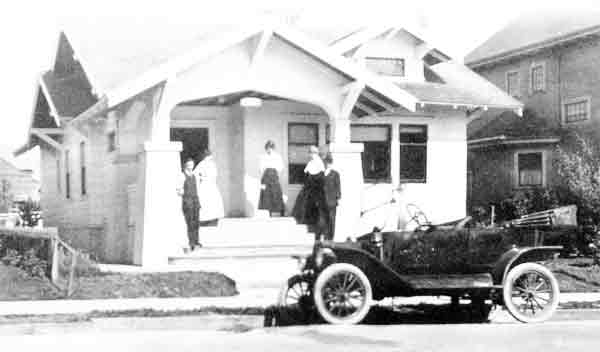 How to get to the Acme Klein Bottle Factory Outlet and occasional fishpond:
PLEASE CALL BEFORE YOU COME!
The Acme Family is often engaged, so make sure there's someone around by dialing 510 654 3958.
To get here from Hayward and Silicon Valley, take 880 North to 980 North, to Route 24. Get off at the CLAREMONT EXIT. At the bottom of the Claremont exit, turn Left onto Claremont St. Go 1/4th mile East on Claremont. At the stoplight, turn left (the easy left) onto Colby Street. It's marked with a bicycle route sign (the locals took down the "Colby Street" sign, so as to discourage tourists, Webvans, and cross-country skiers). Then bounce over four speedbumps, and park in front of 6270 Colby. If it's the 2nd Tuesday of the month, you can watch your car get ticketed for parking on the wrong side of the street on a streetcleaning day.
If you're driving in from San Francisco, Pacifica, or the Farallon Islands, take the Bay Bridge West. Please note that Oakland has NO ADMISSION CHARGE. Instead we charge $5 to get out. Drive west to Route 24 (Sign will say "Berkeley/Walnut Creek"). Take the Claremont Exit. Turn left onto Claremont, go a quarter mile, then left onto Colby Street. If you pass the Colby Street turnoff, you'll reach College Street and probably run over a pedestrian arriving from the Bart station. In that case, make a U-turn in the Safeway parking lot and try again.
Travelling on BART? Then go to the Rockridge Bart station (no visa is required, but do have your passport ready). Take the escolator down to street level. Look for College Street (or ask any of the panhandlers), and walk north on College Street about half a mile. After a 5 minute walk, you'll cross Claremont Street. Watch out for lost topologists driving automobiles. Then go west (towards the Bay) on 63rd Street. 2 blocks west of College you'll find Colby Street.Walk over to 6270 Colby and ring the doorbell.
Coming from Berkeley? Good luck! Acme is at 6270 Colby Street, located within the quadrilateral of: Alcatraz, College, Claremont, and Telegraph. Go to Telegraph and 63rd Street, then East on 63rd Street. At the intersection of 63rd Street and Colby, there's the place.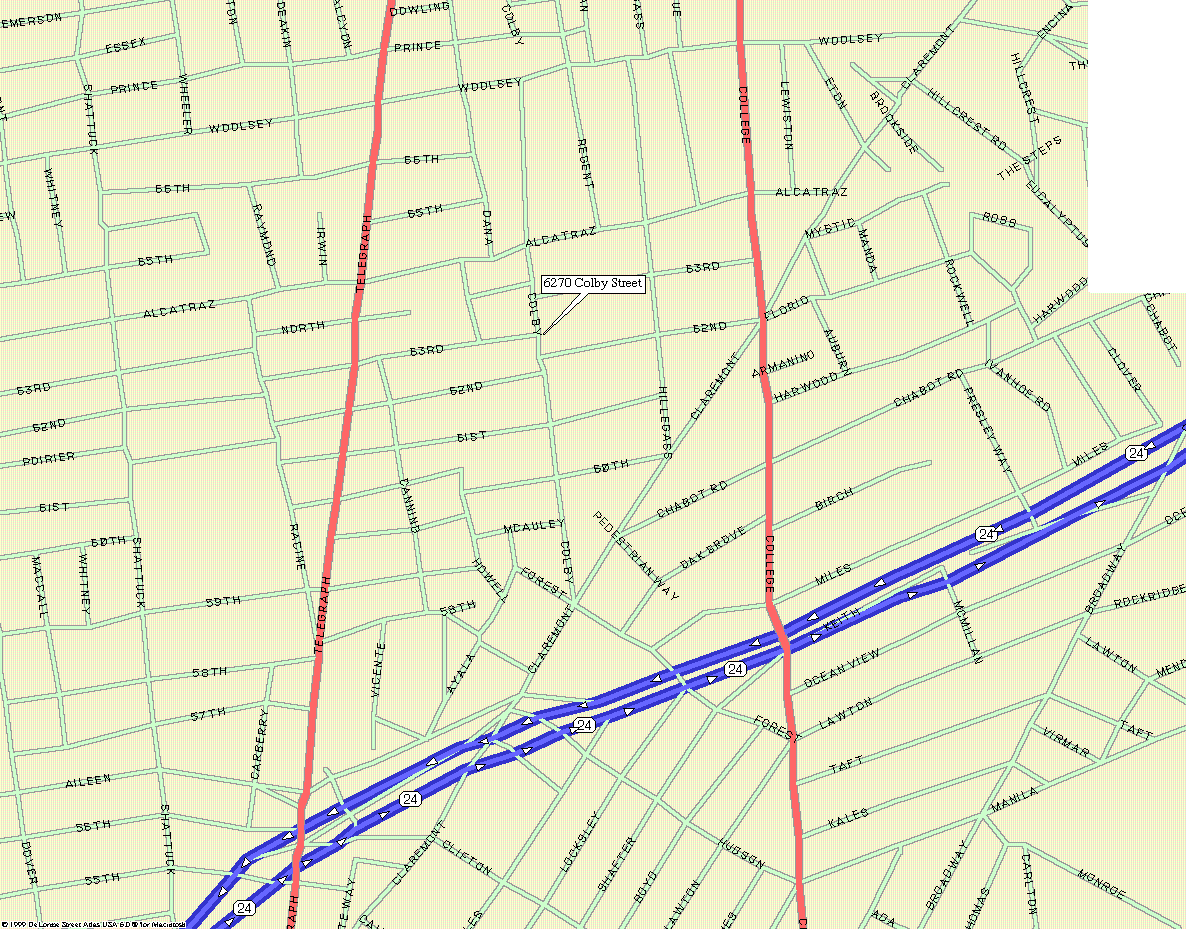 Go to Acme's Home Page
Cliff last updated this page on March 24, 2014